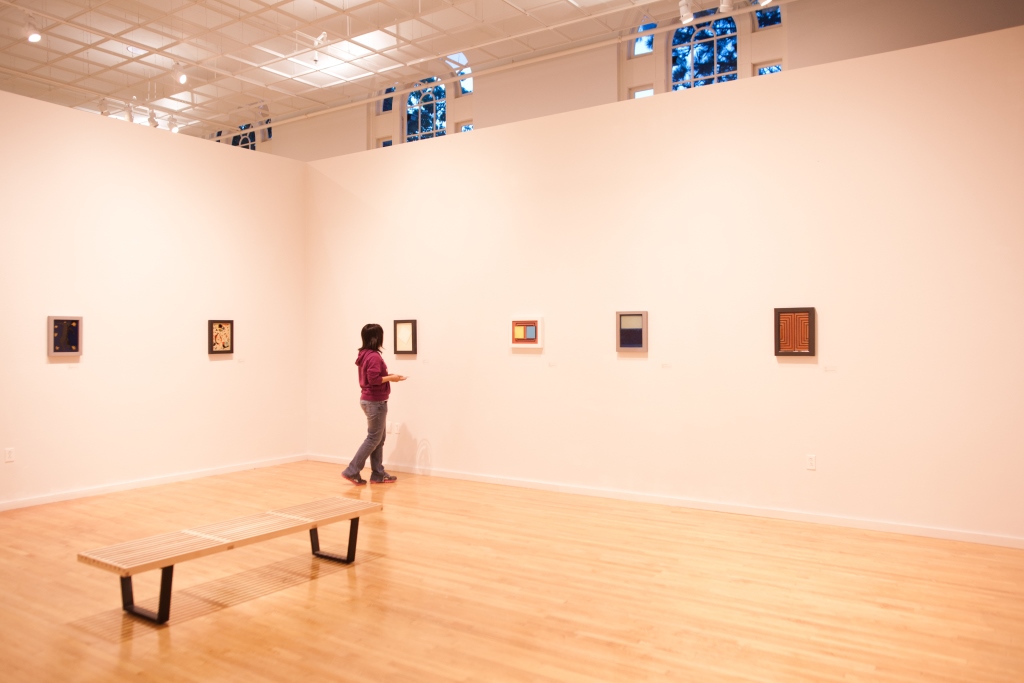 The Truman State University Art Gallery is committed to the belief that art matters. It changes lives, documents and reflects our experiences, and shows us worlds and perspectives other than our own. We also believe that the liberal arts and sciences matter. Knowledge does not exist in isolation; particularly in the information age it is interconnected, is created, developed, and maintained communally, and is changeable over time and across cultures.
Each year the University Art Gallery hosts exhibitions of faculty and student art, art historical exhibitions, and exhibitions of regional contemporary art.
---
2018-2019 Art Gallery Schedule
Fall 2018
---
August 28 – October 5
New Work by Truman State Art Faculty
Priya Kambli in main gallery
and Danielle Yakle in Charlyn Gallery
Professor of printmaking, Priya Kambli, and professor of fibers and sculpture, Danielle Yakle, will show their newest projects in this year's faculty exhibition.
Opening reception
Tuesday, August 28, 5:00 p.m.
---
October 16 – November 29
MicroEcos
Brandon Gellis and Shelby Shadwell
Artist talk and opening reception
Tuesday, October 16, 5:00 p.m.
---
April 23-27
BA Thesis Exhibition
Closing reception
Friday, April 27, 6:00 p.m.
---
December 3 – 7
BFA Thesis Exhibition
in the main gallery
A Strong Foundation
in Charlyn Gallery
Closing reception
Friday, December 7, 6:00 p.m.
---
Spring 2019
---
January 24 – March 1
Retrospective
Wynne Wilbur in the main gallery
View a career-spanning retrospective of work created by Truman professor of ceramics, Wynne Wilbur.
Dreamwork
New Work by ceramicists Leah Bowring, Emily Nickel and Alexander Thierry in the main gallery
Dreamwork features three ceramic artists who encompass a broad range of approaches to ceramics: Leah Bowring, Emily Nickel, Alexander Thierry. Dreamwork refers to the psychoanalytic concept that our unconscious often disguises truths in our dreams from our conscious mind, but, more broadly, the works in this exhibition address the work the mind undertakes when creating memories, fantasizing, meditating, and dreaming.
Claiming Country: Masterpieces of Western Desert Painting from the Kluge-Ruhe Aboriginal Art Collection in Charlyn Gallery
The Western Desert, located in west central Australia, is home to many of Australia's indigenous communities and is seen as the birthplace of the contemporary Aboriginal art movement. Indigenous Australian art is often based on Dreamings, called Tjukurrpa in the Western Desert region. Dreamings link Aboriginal peoples to their sacred lands, often referred to as Country, through narratives of ancestors and creator beings. Western Desert artists bridge the gap between traditional Aboriginal practices and the contemporary art world by expressing Tjukurrpa in their work through ceremonial iconography and aerial perspectives of sacred landscapes associated with creator beings and ancestors. The paintings in Claiming Country explore the essential role that Country plays in the identities of Indigenous Australians. This exhibition brings together paintings by prominent Western Desert artists Pansy Napangardi, Makinti Napanangka, Weaver Jack, Harry Tjutjuna, Kathleen Petyarre, Tjumpo Tjapanangka, and Paddy Japaljarri Sims.
These works have graciously been loaned to Truman State University from the Kluge-Ruhe Aboriginal Art Collection of the University of Virginia, the only museum outside of Australia dedicated to the exhibition and study of Indigenous Australian art.
Opening reception
Friday, January 25, 6-8:00 p.m.
---
March 19 – April 18
Annual Juried Student Exhibition
in the main gallery
Guest Juror Kate Casanova
Underbelly
Kate Casanovein Charlyn Gallery
Opening reception
Tuesday, March 19, 5:00 p.m.
---
April 22 – 26
BA Thesis Exhibition
Closing reception
Friday, April 26, 6:00 p.m.
---
April 29 – May 3
BFA Thesis Exhibition
Closing reception
Friday, May 3, 6:00 p.m.
---
Visit Us
The University Art Gallery resides in the renovated gymnasium in Ophelia Parrish Hall located at 300 East Normal Street. Exhibitions are free and open to the public.
Gallery Hours:
Monday – Thursday 8:30 a.m. – 7:00 p.m.
Friday 8:30am – 5:00 p.m.
Saturday Noon – 4:30 p.m.
Please note, the University Art Gallery is closed between exhibitions and during all Truman State University breaks.
Parking
During regular business hours, free on-street parking is available on S. Florence Street and S. Mulanix Street. After hours and on Saturdays, you may park in the university parking lots off E. Normal Street and S. Davis Street for free.